Additional power supply
by Mr. Matsuura
I planed additional power supply because of the lack of electric power capacity using Power PC upgrade card, high capacity HDD or additional card on my MYSTIC. The problem is establishment space. Color Classic has some space at the front of logic board, and I decided to install power supply there.
---
Disassembly of Color Classic
After removing the analog board, put shassis off from front panel.
The shassis is removed by floating four craws at front panel using screw driver.
Remove metal shield.
Shassis manufacturing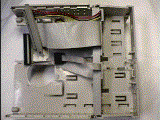 Cut off all partition.

Power supply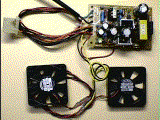 This is power supply unit outputting12V/2.5A and 5V/2.5A. Connect HDD power cable and cooling fans from this.

Assembly

Obtain power supply unit into shassis.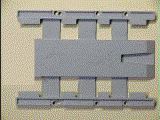 In this case, power cable is too short to connect to HDD, therefore HDD was turned. Carrier of HDD is also manufactured.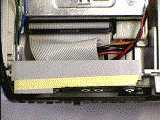 SCSI cable is also detoured.

Supplying to power supply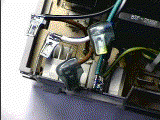 Electric supplying to power supply unit is taken from secondary terminals of power switch. It is easily connected by removing terminals from power switch.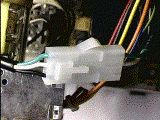 Cable used is AC 100V standard, and is connected using connectors. It enables easily removing of analog board.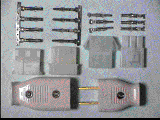 I think it will be able to substition by plug and body.

Adapter
I manufactured adapter to linkage keyboard power key and put on/off of power supply. Power supply is controled using relational switch.
This is relay switch (OMRON G68-1114P-US 12VDC). This is very small.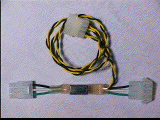 The relay is connected between input terminal of power supply and Color Classic power switch secondary terminal, and controled by HDD power connector of Color Classic.

---
Afterword
The risk of Color Classic hard hacking is owing to yourself. But let's plan and challenge using usual parts around you.
Copyright 1997/2/4 Y.Matsuura
Back HOME