Display enlargement
Haven't you faced with difficulty in adjusting that your high resolutioned Color Classic's monitor was distorted and you failed to adjust the area, when you tried to enlarge the display area?
Of course depending on individual difference, we may say that your monitor is normal, if each black part of right and left is less than 10 mm on an average. But, it annoys us to adjust strain only by making indication area smaller. Originally, you should give up to adjust the strain because of individual difference.

But there is a trump card.

The way is very very dangerous. The high-resolution remodeling has already imposed a severe burden on analog board, the way makes the burden heavier. Therefore, analog board more easily breaks down. Trouble reports by this adjusting method have already been sent to us. Please try the method shown below, if you want to enlarge display area in any case.

I don't want to recommend........
---
Adjust PP1 (semi adjustable knob) at the center of analog board.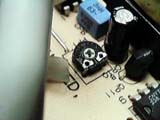 Magnification photo of PP1.
Turning PP1 righit raises supplying voltage.
---
This adjustment effects +60V (+84V, after remodeling), +24V and +8.4V. It effects to geometry adjustment and video adjustment like as horizontal drive transistor, horizontal pre-drive FET, pin phase correction IC, vertical drive IC, video processing IC and RGB gain adjustment (green gain and blue gain only at Color Classic). +84V effecting horizontal drive voltage is output to test point TP1 (connected to chalk coil LP5).

Mr.Tak told if you want to adjust at any cost, please adjust carefully it with measuring the voltage by using voltage counter.

Back HOME