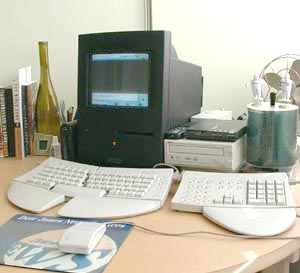 This is my mail friend's Color Classic. This is wondering one!
And I feel so NICE! at the accessories of Mr. Bibendum. :-)
His name is Tang Siu Chi, and called ball chai. He is living in Montreal, Quebec, Canada.
This wondering CC's spec is....
PPC603ev 300MHz
1MB level2 casche
128MB RAM
Apple AV/TV system
IR unit
CS2 Ethernet card 10/100BASE-T
9.1GB Seagate 10000rpm HDD
....(at the left side of CRT)
Adaptec powerdomain U2W SCSI card
Additional power supply
....(at the right side of CRT)
Apple Adjustable keybord
Powerful cooling fan
Color in black

He wants to keep in touch to other people in the world.
If you are interested in this CC and him, mail to "Tang S.C.".
Back HOME